Your Author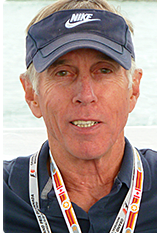 Brett Lunger studied political science at Princeton University before enlisting in the Marine Corps in 1967. Returning from a tour in Vietnam, he taught at the Marine Officers Basic School in Quantico, Virginia.
Upon leaving the Marine Corps, Brett pursued a career as a professional race car driver. Though he enjoyed a successful first season, it was clear that more frequent competition was essential to his continued development. So in his second season, he continued to race in the United States but took on the additional challenge of racing against the top drivers on the European Formula 2 circuit. The decision paid off. In his final three seasons, Brett competed in Formula1 Grand Prix races around the world.
Since retiring from motor racing, Brett has worked in marketing, sports promotion and investment management. Along the way he developed a passion for aviation. He currently holds an ATP rating and flies in support of a number of charitable organizations, providing free air transport for patients in need.
If you think his bio is bizarre, take a peek at what he has written in his workbooks as well as his story.
About
Why
The choices we make have consequences. Recognizing and accepting that fact is essential to leading a constructive and fulfilling life. Choosing to make responsible choices is not easy. Young people today face distractions and influences which, even in the best of circumstances, challenge the notion of personal responsibility.
How
The I Am Responsible workbooks have been created to stimulate discussion about personal responsibility in daily decision making. Simple in design, our workbooks have been used in a variety of coaching/teaching environments.
Workbooks
We offer six versions of the I Am Responsible series. Each version uses the 26 letters of the alphabet as prompts for reflecting on different aspects of personal responsibility. Interactive in nature, the workbooks challenge individual users to select their own "responsibility words" that reflect their own perspectives and life experiences. By selecting their own words and writing about how those words will impact their decisions, the users become engaged. This engagement makes it more likely that responsible decision making will occur in the future.
Reverend Steve Wookey - Author of I AM Responsible: Faith Based Version
Since 1996 Steve Wookey has led the work of St. David's Church at Morten-in-Marsh, England.
Previously, Steve served on staff at Christ Church in Cockfosters, at St. Michael's Church in Paris and then at London's All Souls, Langham Place. He and wife Gilllian have three children – Bethan, Daniel and Anna.
As a young student, Steve had the distinction of earning his "Blue" (Varsity Letter) as a cricketer at both Cambridge and Oxford Universities. He earned his MA in Classics at Cambridge and his Certificate in Theology at Oxford. Today he is a keen but, by his own admission, hugely erratic golfer. He also is an avid fisherman and a fan of all things Apple.
Steve is the author of When A Church Becomes A Cult. One of his more noteworthy sermons, "Chasing After The Wind," can be found on YouTube.
His 30 years of Christian ministry helped to shape our faith-based workbook.
Become A Partner